Cut the cost of sending tubular items by courier
ARO Caps are designed & manufactured in the UK to provide a cost saving solution for companies or individuals sending items in mailing / postal tubes via couriers. Our anti-roll plastic caps mean your postal tubes can be handled in the same way as other parcels — without causing a handling nightmare for your preferred carrier.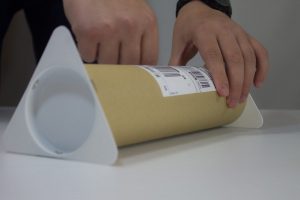 Whether you call them plastic Anti Roll Plugs, Anti Roll Bungs, Anti Roll Caps or Anti Roll Closures is not important, but the ability for them to prevent mailing / postal tubes from rolling during your courier's automatic sortation system is. When negotiating shipping rates with carriers they will have far less discretion to offer their most favourable rates if a high percentage of your items are shipped in tubes — which are not conveyable and require manually handling within the system.
Postal tubes are by far the best method of sending a huge range of products and our anti roll tube caps remove a huge hurdle to their use; the inability of couriers to handle them efficiently and pass on the savings to YOU the sender.
Mail order poster sellers & anyway sending a large number of tubes in their shipments can make significant savings with a very inexpensive alternative to traditional round caps.
Contact us for more details on 'ARO Caps' our triangular anti roll postal tube cap solution.